Industry
Live from MBA 2023: Consumer-permissioned income data now eligible for Fannie Mae Day 1 Certainty
Argyle is the first authorized report supplier for the Desktop Underwriter (DU) validation service

Molly Hayes
Director of Product Marketing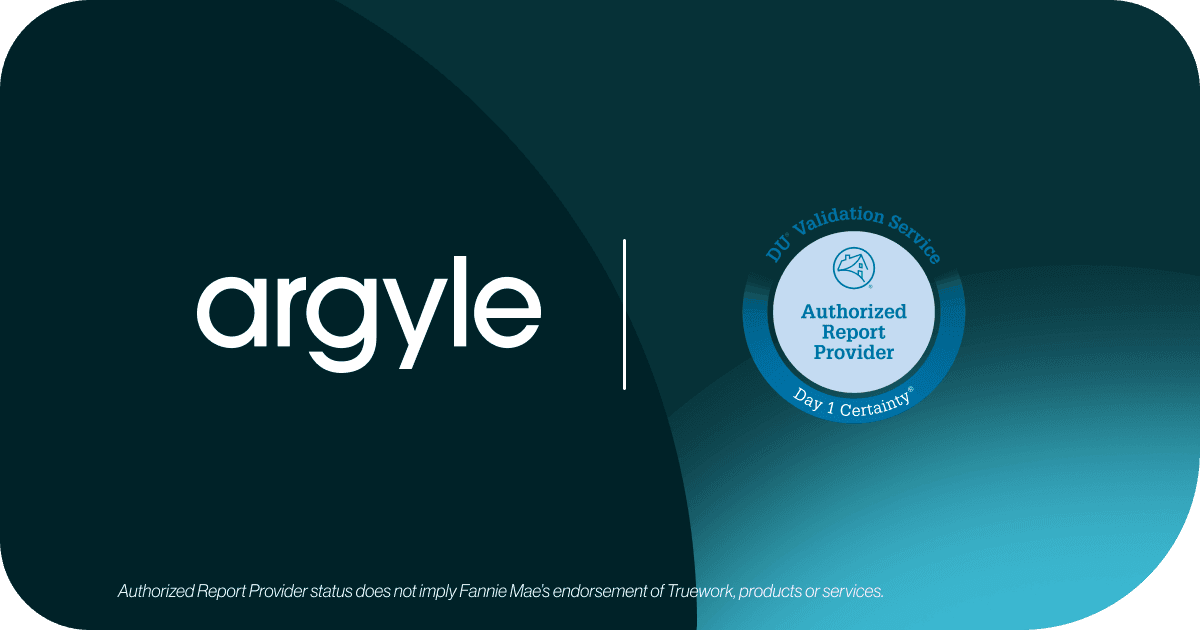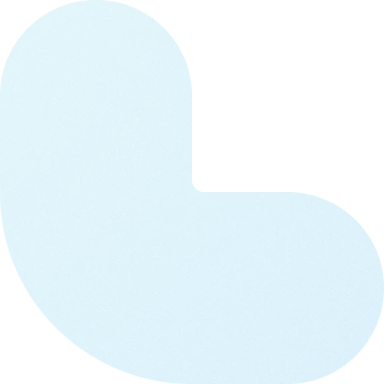 Today at MBA Annual, Argyle announced that they are now an authorized report supplier for Fannie Mae's Desktop Underwriter (DU) validation service, a component of Day 1 Certainty. 
Previously, eligible reports were limited to verifications obtained instantaneously from payroll and employer databases. But last year, Fannie Mae announced they were exploring other automated income verification methods to include more income types and applicants. This announcement is the first significant milestone in that evolution and a clear sign that consumer-permissioned income verification is now a must-have for lenders looking to save time and money.
More Day 1 Certainty eligible loans at lower cost
By adopting a consumer-permissioned income verification solution, mortgage lenders can now:
Increase the number of loans eligible for Day 1 Certainty:

With incremental coverage over instant solutions, consumer-permissioned solutions now allow for more verifications to be eligible for rep and warrant relief

.

Reduce processing costs and reliance on legacy verification providers:

Consumer-permissioned solutions are available at a fraction of the cost of instant offerings and less labor-intensive than manual verifications. And for employers that could once only be verified by working with legacy providers, they offer a more cost-effective avenue to obtaining these verifications.

Provide a more accessible and transparent customer experience:

Removing the need for applicants to locate and upload paystubs and W-2s is a significantly improved customer experience. Plus, proactively allowing them to connect to their payroll account and share their data directly can increase trust and reduce the likelihood of errors.
How it works: adopting a consumer-permissioned income verification solution
While a newer concept to the income verification process, mortgage lenders use consumer-permissioned asset verification solutions widely. Adopting consumer-permissioned income verification solutions is very similar. The applicant can log into their payroll provider or employer's system and their income information will be automatically shared with their lender.
The workflow can be easily incorporated into a lender's existing process. It can add it as a widget in an online loan application or sent via email as a follow-up later in the process
And added features make the experience faster and more accessible for the consumer. If the applicant doesn't remember their payroll provider, they can simply search for their employer and the corresponding payroll system will be surfaced. And if they have forgotten their password, they can ask to reset it directly from the interface.
For loan teams, processing the verification is like any other verification report. Once the applicant has successfully logged in, the data is transformed and standardized into a verification report, compliant with Fannie Mae's 1005 form.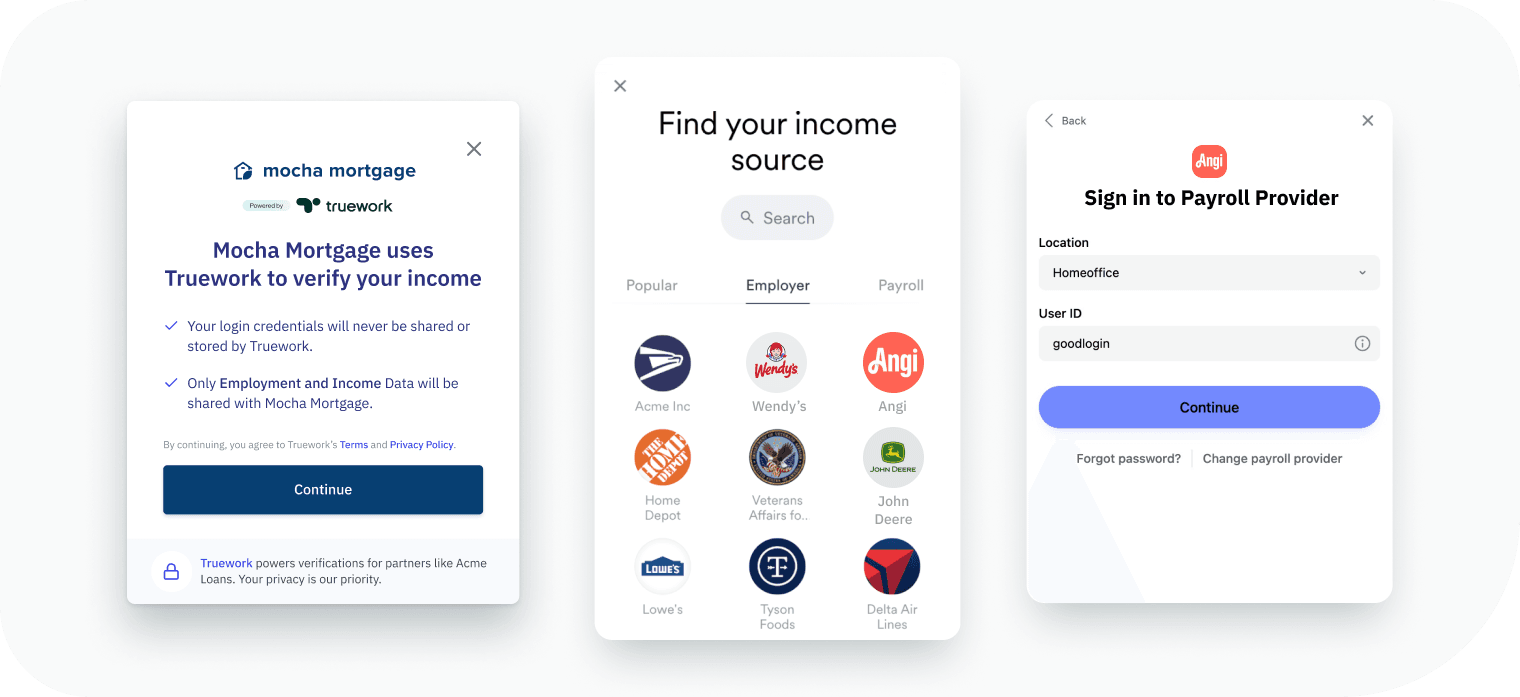 How Truework can help
As a trusted Argyle partner, Truework is hard at work bringing this offering to our customers with our consumer-permissioned offering Credentials.
But with less than 100% success rate, savvy lenders know that consumer-permissioned income verifications are not a standalone turn-key solution. The most effective income verification strategies orchestrate multiple verification methods from one provider to maximize coverage and speed.
The Truework Income platform provides every major income verification method, orchestrated together in a single solution. With one integration, lenders can implement Credentials alongside Instant to access the greatest number of verifications eligible for Day 1 Certainty available in the industry today. When used with our automated outreach solution, Smart Outreach, lenders can now automate income verifications for up to 95% of U.S. employees.
And for lenders looking to automate verification of income at time of application, Truework Income for Mortgage Point-of-Sale can be embedded into an existing POS system and automate the income verification process for any applicants before, during, or after an application has been submitted.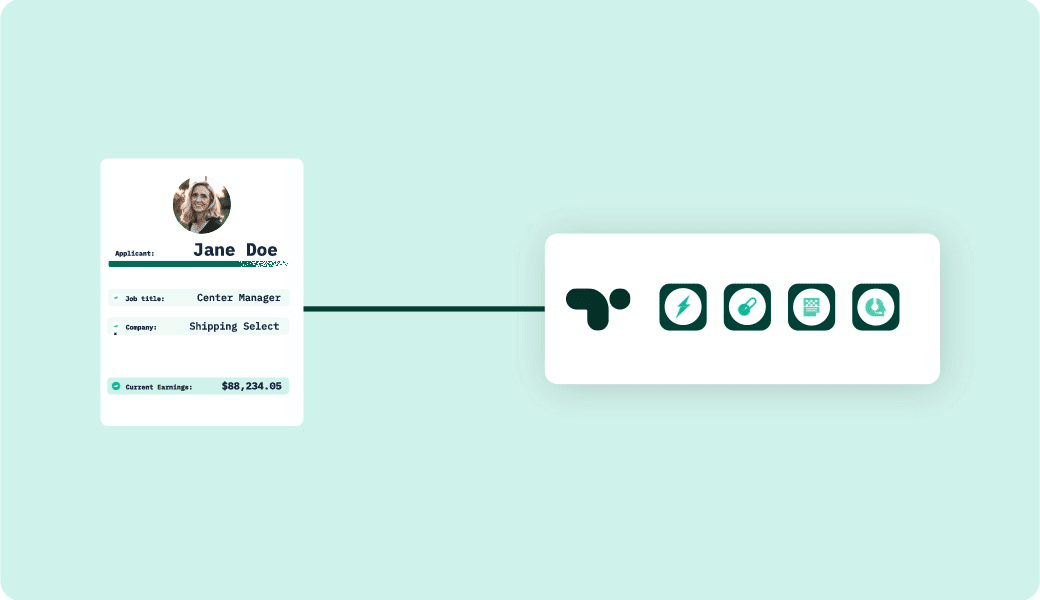 What's next
At Truework, we are always adding new verification methods to our platform to continue helping lenders automate as many verifications as possible. As the GSEs continue to support more types of income, like direct deposit data, we will continue to add these capabilities to our platform. To learn more about our platform, our roadmap, and how you can future-proof your income verification strategy — speak to an expert.
Ready to
unify

your verification strategy?

Join the thousands of lenders who use Truework Income as the one-stop verification platform.

Learn more