Industry
How to Verify Income for 95% of Applicants After Replacing The Work Number with Truework Income
Platforms connecting new technologies offer fast and cost-effective alternatives to legacy verification providers.

Bradford Rose
Senior Product Marketing Manager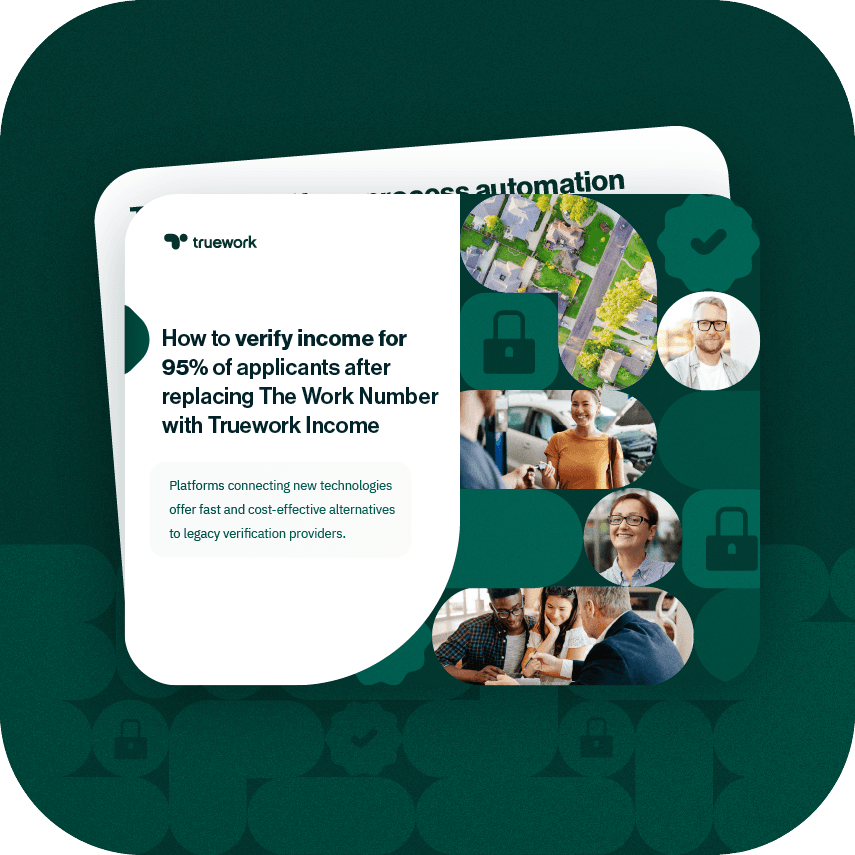 The future of loan process automation
Meaningful trends in digital transformation don't take root overnight. While the rise of AI technology may seem like a recent explosion, the build up to this moment was decades in the making.
A corollary in the income verification space is the development of user-permissioned solutions, allowing applicants to share source-of-truth data by logging into their payroll provider. This year our team has spoken with hundreds of verifiers who are eager to explore user-permissioned technology, like Truework Credentials, as a way to reduce their dependence on legacy providers, such as The Work Number from Equifax.
Within the past few months, dozens of businesses across the mortgage, tenant screening, and consumer lending sectors have implemented Credentials as a part of the Truework Income platform to increase verification coverage and automation while reducing costs.
Like other meaningful trends, this transformation did not happen overnight. Our team has spent the past few years improving the Credentials product and experience to establish Truework Income as the preferred alternative to legacy providers.
No longer do verifiers need to worry about data being exclusive to one provider. Credentials opens up data access, giving both verifiers and applicants a welcomed new option.

User-permissioned technology provides significant value as a standalone solution, but fully realized transformation comes from the ability of a tool like Credentials to be connected with other verification methods, seamlessly. This multi-method approach finally allows for the creation of a fully automated and truly one-stop platform.
For decades, a user-permissioned tool helping businesses avoid exclusive data providers has been the missing link in a one-platform solution.
Truework Income now lets users verify 95% of the U.S. workforce by automating and orchestrating verifications across a single platform of connected technologies.
Integrating a user-permissioned tool like Credentials into a platform like Truework Income is the key that unlocks the future of verifications. Verifiers who adopt new platform solutions like Truework are building more resilient business models by maximizing automation, reducing costs and improving the applicant experience.
A brief history of income data
Verified income data has long been a critical part of underwriting decisions, but it wasn't until the Dodd-Frank Act of 2010 that income verification became a required process for any qualified mortgage.
With verified income now a necessity for many lenders, businesses turned to The Work Number, an employment verification database created in 1985 and purchased by Equifax in 2007.
The Work Number would serve as the industry standard for income and employment verifications for over a decade. The cost of income data continued to rise as legacy providers used exclusive data access to force customers to pay more each year, leading to costly outcomes for lenders and other verifiers.
An issue we've had with our old verification provider in the past is everyone having their own log-ins, and then they submit the same request again and again. Then we have 500 dollars worth of verifications before the file is even close to an application."
Director of Product Operations,
at Top 100 mortgage lender
Additionally, verifiers using legacy providers had to contend with a confusing user experience that led to redundant and unnecessary verifications orders. Finance teams struggled to decipher complicated invoices, making it difficult to understand the true cost of verifications.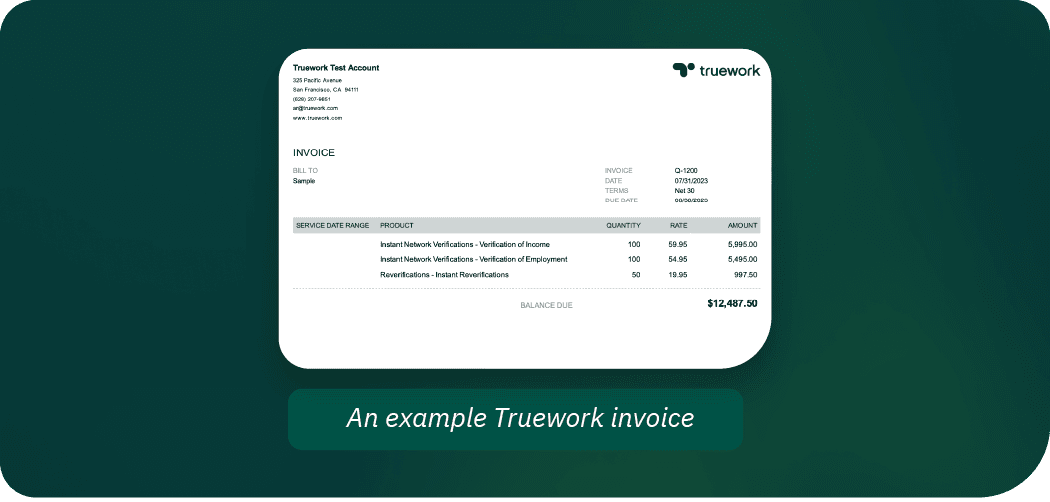 Thousands of verifiers were forced to do business with these providers because the alternative presented even more risks and challenges. The only way a business could complete a verification for an individual whose data was exclusively on a network like The Work Number was to ask for W2's and paystubs.
We love the fact that Truework allows us to set a new bar for our customers. Everyone dreads a painful financial autopsy when applying for a mortgage, but when you take paystub and W2 gathering out of the equation, it gives all parties a much better experience."
Jason Cohen,
Chief Operating Officer
at NJ Lenders
Collecting documents and extracting the right data while also assessing fraud risk is a slow and difficult process for any team. On the applicant side, this manually-intensive process can be equally dreadful.
Streamlining the applicant experience
As the usage of Truework Credentials has grown, the most commonly asked questions have been about the applicant experience. At first, a cohort of verifiers raised concerns about the use of user-permissioned technology creating a negative applicant experience.
But the borrower experience is also important. Does the borrower feel like we're asking them to do too much?"
VP of Risk,
at Top 200 Mortgage Lender
The reality with user-permissioned income verifications, however, has played out much differently. Instead of creating friction in the application process, user-permissioned data has given applicants more control and transparency over the data sharing process.
Traditional verification methods are often a black box for applicants with little visibility into how sensitive data is shared. Credentials, however, puts the applicant in the driver's seat, allowing them to connect to their payroll account and share their data directly.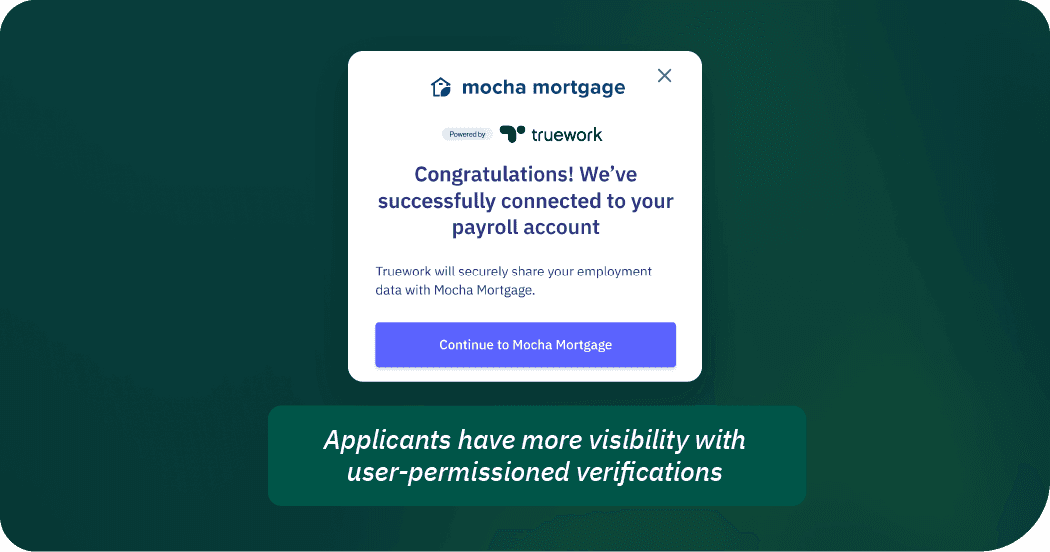 This proactive approach has increased trust with applicants and significantly reduced the likelihood of data errors, helping accelerate the application process while mitigating fraud risk.
User-permissioned income verifications are the latest evolution in a broader trend in financial technology. With the rise of digital banking, consumers have become familiar with the benefits of sharing critical pieces of information by connecting financial services accounts. Plaid, for example, continues to lead the way in helping consumers connect their bank accounts to financial applications such as PayPal and Venmo.
In the lending space, verifiers had previously adopted user- permissioned solutions to verify an applicant's assets. Only recently has a product like Truework Credentials enabled a viable and preferred alternative to traditional income verifications.
The more opportunities we have to gather income data without borrowers scanning and emailing documents, that's beneficial. Credentials is the way the whole world is going."
Director of Product Operations,
at Top 100 Mortgage Lender
Consumers now have a strong familiarity with user-permissioned technology and the ways in which it can accelerate an application process. No one is more incentivized to move through the process quickly than the applicant themselves.
Maximizing success with user-permissioned data
Truework Credentials can verify over 90% of all individuals in the U.S. This performance metric is called the coverage rate, i.e. the number of workers who use a payroll system that is compatible with Credentials.
Since Credentials is already compatible with over 150 payroll providers, the group of individuals that are unable to complete user-permissioned verifications is relatively small.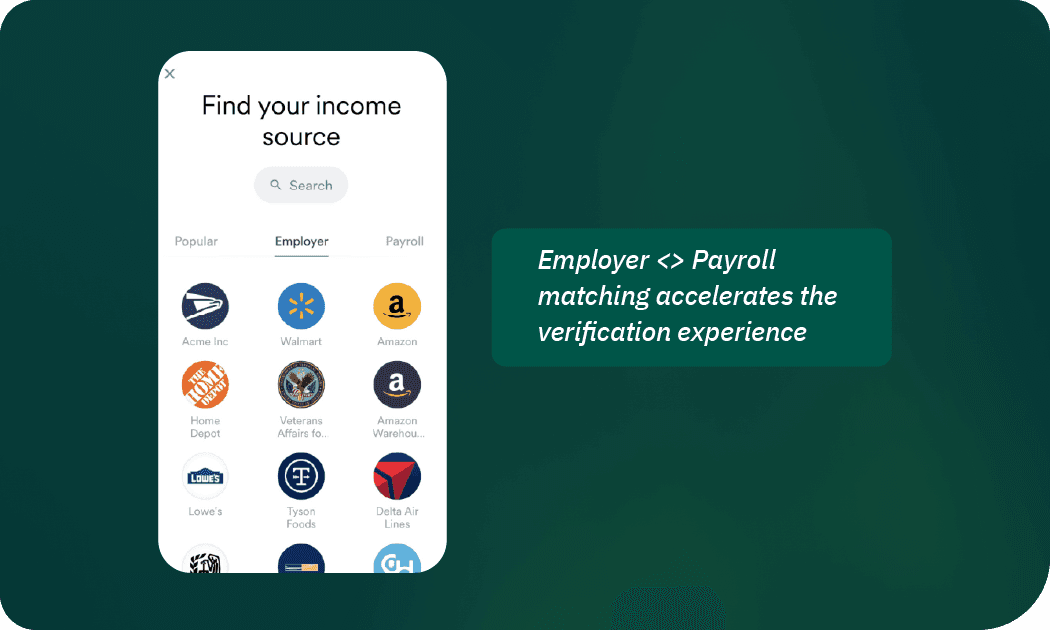 For our enterprise customers, over half of all Credentials requests result in an accurate and comprehensive verification report. This represents our success rate. To clarify the difference between these two performance metrics;
• Coverage rate: The percentile of workers that are eligible to use Credentials to complete a verification
• Success rate: The percentile of Credentials requests that result in a successful verification
Coverage rates will always be higher than success rates for different reasons. One of the most common drivers is that applicants sometimes drop out of the process and choose not to complete the verification. Other times an applicant may have not opened their email or perhaps forgotten a password.
Enterprise Credentials users have multiple ways to improve success rates, including co-branding, team training as well as messaging customization. The best ways to increase success rates are: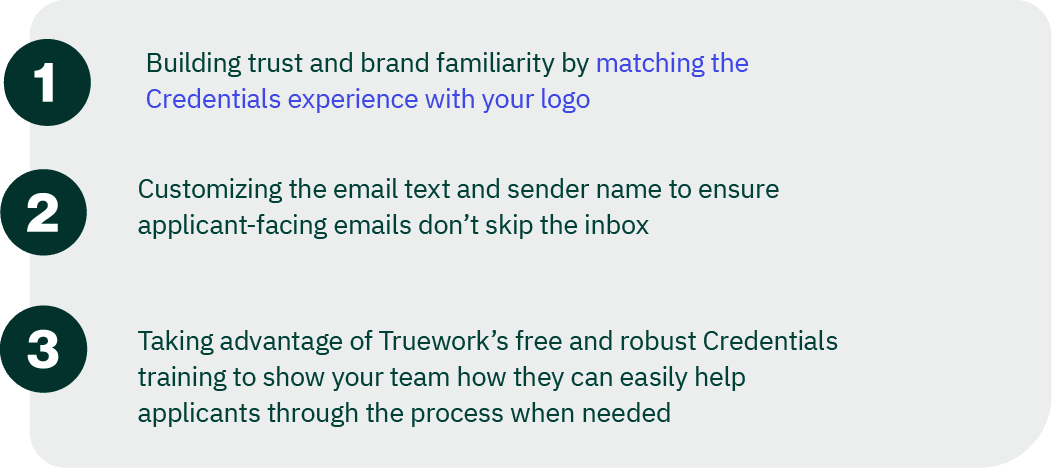 Credentials is built with a straightforward experience to help users reset their payroll password whenever necessary. The user experience also helps applicants easily identify their payroll provider through a comprehensive payroll-employer matching system.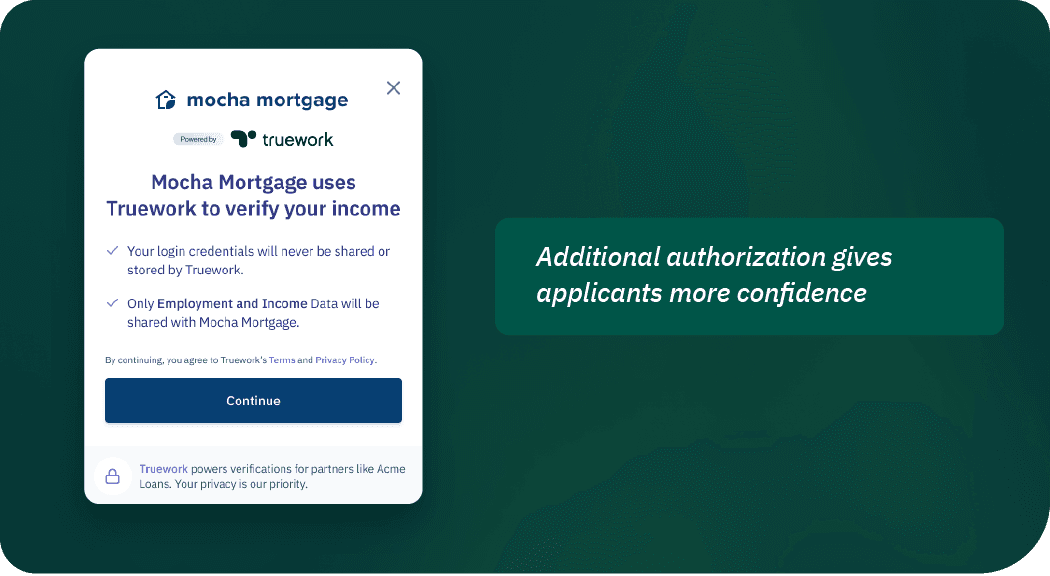 Teams that have taken advantage of Credentials customization and other features, especially the team training, are seeing greater success rates resulting in maximum cost- savings and increased applicant conversion.
Building a comprehensive platform through automation
Verifiers who have implemented a user-permissioned solution like Credentials are saving tens of thousands of dollars every month while helping applicants accelerate through the process with more control over their data.

But user-permissioned data is not a standalone, turnkey solution.
The ideal verification platform requires more than a 50% success rate. Connecting Credentials to additional verification methods gives verifiers maximum coverage and automation, eliminating the hassle of searching across multiple providers and avoiding the financial autopsy associated with manual pay stub verifications.
Additionally, many businesses prefer instant applicant data when available, turning to alternative methods like user-permissioning only when instant data is either unavailable or too costly.
When neither instant or user-permissioned data is available, verifiers often need help tracking down individual employers without wasting hours of resources on any one verification.
The ideal solution, not only requires maximum verification coverage, but also the flexibility to conform to a variety of business needs, without disrupting operations.
One platform, 95% success rate
The Truework Income platform, consisting of Instant, Credentials and Smart Outreach, can provide customers with a 95% success rate when all three verification methods are utilized in concert. Truework Income quickly identifies the optimal method based on applicant and employer data, so requests can be seamlessly routed between methods without any additional work from your team.
Alternatively, the flexibility of the Truework Income API lets verifiers plug and play Truework however they see fit. Verifications can even be embedded directly into an application flow to pre- screen or pre-qualify applicants using Truework Direct.
Speed and ease, that is what Truework has brought to our verification process. Processors don't have to do much after submitting a verification through Truework- no chasing down HR contacts or pestering the borrower. It cuts out so much of the hassle"
Wilson Enriquez,
Mortgage Manager
at Ideal Lending
With Truework Income, verifiers now have a favorable alternative to legacy verification providers. This one-stop platform combines industry-leading coverage with flexibility, efficiency and accuracy.
The success of user-permissioned verifications has unlocked a new wave of digital transformation in loan process automation. Plugging Credentials into a multi-method, automated platform like Truework allows verifiers to drastically improve the applicant experience while avoiding ballooning costs. All through seamless automation.
Ready to get started with Truework Income today?
Join the thousands of verifiers who use Truework as a one-stop verification platform.
Learn more