Industry
How Credit Unions Can Automate Loan Processing With Unified Income Verification
Learn how user-permissioned data can be used to streamline automated income and employment verifications, saving your team time and resources while improving the customer experience.

Bradford Rose
Senior Product Marketing Manager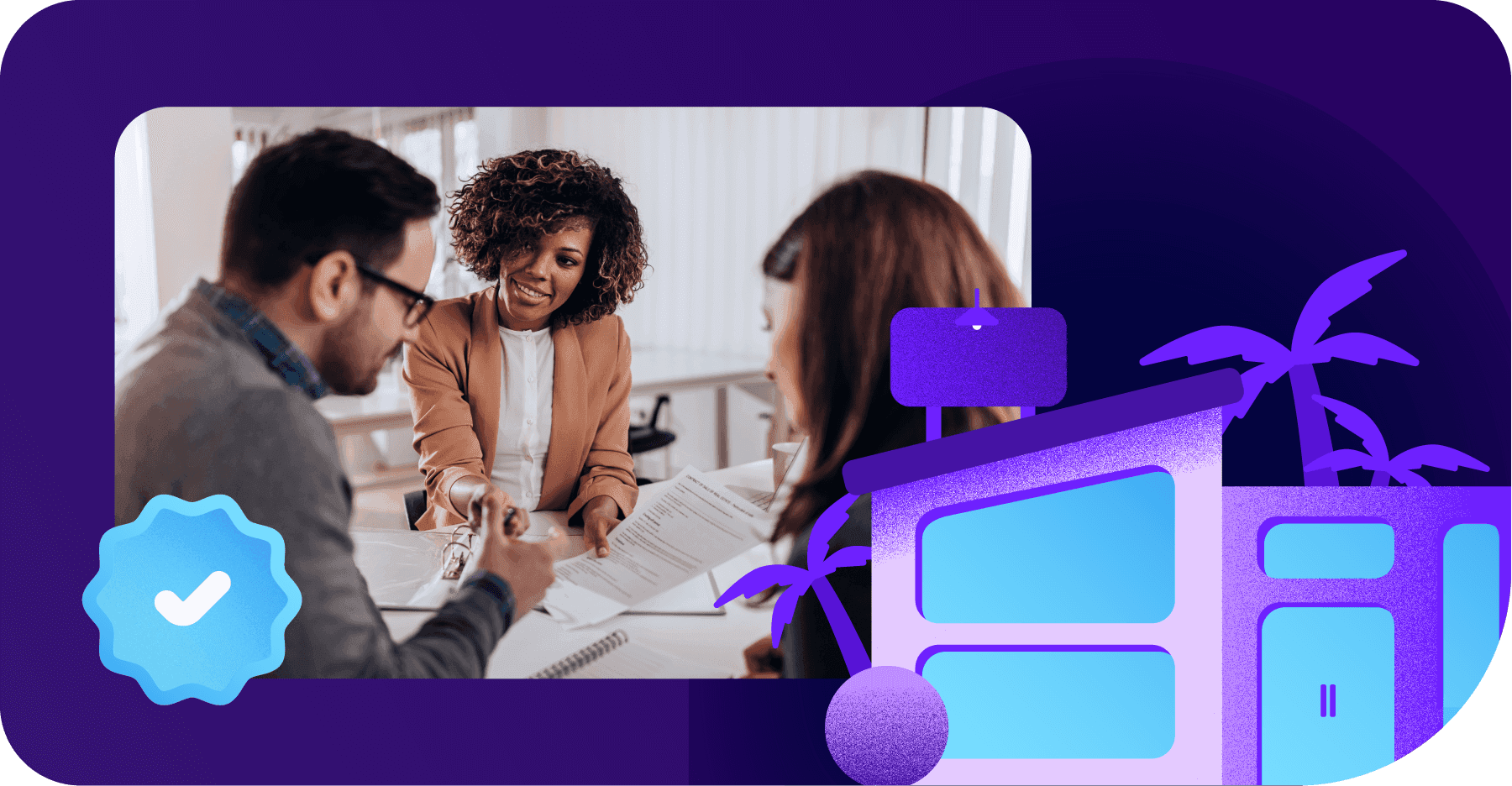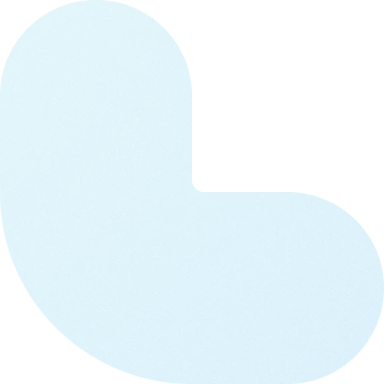 During volatile economic times, credit unions must grow their businesses while providing each individual with an exceptional experience.
The increase in interest rates and competition from fintech companies and larger lenders put extra pressure on credit unions to figure out how to operate more efficiently without sacrificing the experience people expect.
Using an automated loan processing system is one way credit unions can balance optimizing their loan processes and enhancing customer interactions — something they can enable by using a platform like Truework that takes a unified approach to automated income verification.
What are automated loan processing systems?
Automated loan processing systems are cloud-based software solutions that streamline loan applications, decisions, and disbursements. Financial institutions can use automated loan processes to simplify their operations and keep risks low, all while providing a high-quality customer experience.
How credit unions can take advantage of automation solutions
Automating parts of the lending process and increasing digital capabilities can empower credit unions to compete against fintech companies and digital-first lenders, which are becoming increasingly popular among borrowers. 
And credit unions seem to be fully aware of this trend, with 78% of nearly 70 credit unions citing the improvement of digital member engagement as very/extremely important, with faster loan approvals being one of the top priorities.
That said, when transitioning to loan processing automation, finding the right balance between speeding up the process and maintaining relationships with borrowers is essential. 
Adopting end-to-end automation and eliminating all human touchpoints isn't necessarily the answer for credit unions. Instead, the goal should be figuring out which piece of the loan process will benefit the most from automation.
One area where automation can be especially impactful is income verification. As 95% of all financial institutions plan to enhance their lending capabilities, credit unions are most focused on automated decision-making, pre-qualifications, and loan approvals.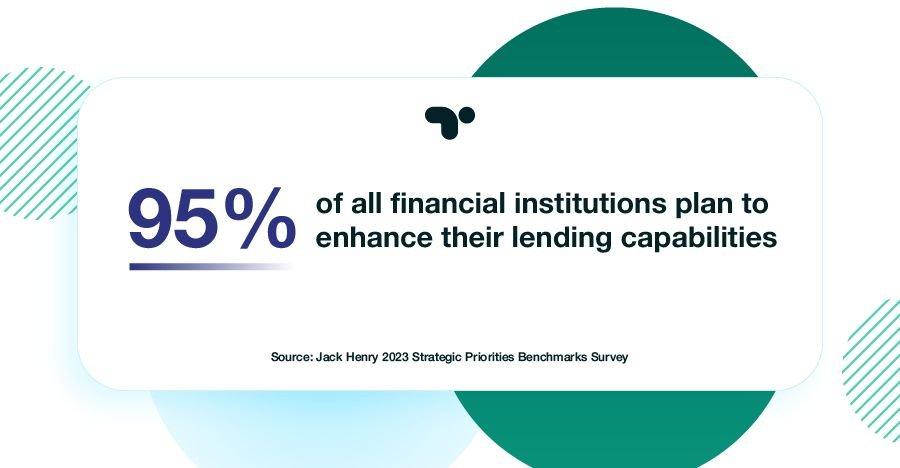 Automating income verification helps tackle these elements by modernizing the loan origination process while keeping customers engaged. 
However, there are various automated income verification methods, and finding a different provider for each can make the process costly and inefficient. 
That's where a unified approach to income verification like Truework comes in. The unified approach lets lenders streamline a highly manual and time-consuming part of the process, reduce costs by granting access to user-permissioned data, and find opportunities to improve the loan application process.
Before further diving into the benefits, let's look at the challenges credit unions face when processing manual income verifications.
Challenges of manual income verification for credit unions
Manual income verification is a time-consuming and costly process that makes it difficult for credit unions to keep costs low without sacrificing elements of their customer experience. 
For lenders with internal teams handling verifications, scaling for business growth often means hiring new team members to handle the additional workload. Given that 50% of financial institutions cite staffing and recruiting as a top challenge, that can be especially problematic. 
Furthermore, having in-house teams handle each verification manually prevents them from spending time on high-quality customer interactions. 
Beyond that, legacy verification services have traditionally been the alternative to in-house income verification. However, lenders would likely need more than one provider and they continually raise prices, making the process increasingly costly.
All of the above still doesn't account for the costs associated with data being exclusive to specific providers. 
Between each provider having their own systems verifiers must log in to and repeat requests, lenders often deal with hundreds of dollars worth of verification costs before the file is even close to an application. 
But there's a one-stop solution for these challenges: unified income verification. 
Truework's unified approach to income verification
Unified income verification services use one central platform that gives credit unions multiple options to verify income all in one place. 
Truework is the only solution that gives you seamless access to multiple verification methods and automatically routes verifications through to the most efficient method. That includes access to user-permissioned data, which significantly reduces the costs throughout the loan application process.
With Truework, your team has the option to automate income verification when needed but can make the final call on when to use it. 
With the option of taking a unified approach to income verification, you can offer more streamlined digital verification options so you don't have to rely on fully manual processes anymore. 
In contrast, traditional verification services offer one or the other. 
If you want to offer multiple verification options, you must go through multiple service providers, creating a more fragmented process, slowing down your underwriting, and ultimately creating a negative experience for your borrower.
Benefits of unified income verification 
Unified income verification is an excellent way for credit unions to improve their loan management processes and deliver exceptional customer experiences. 
Here's a look at the main benefits.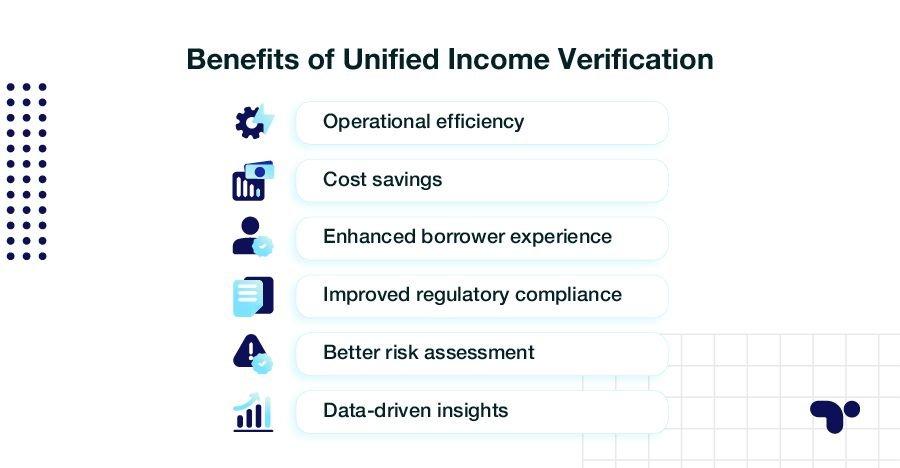 Operational efficiency
By letting a unified verification provider handle income requests, your team becomes more productive by spending more time on high-quality customer interactions. 
Employees are now free to focus on building customer relationships, keeping retention high, and growing the business through channels like customer referrals. 
Automating income verification also leads to a faster loan origination process, which means borrowers receive faster credit decisions and disbursements.
Credit unions can reduce overhead by streamlining the verification workflow and reducing the number of manual tasks. In essence, it lets you pull in income data from a single source of truth instead of searching across providers or waiting for applicants to push that information through.
Cost savings
Taking a unified approach to income verification also lowers operational costs. With income verification handled in one place, credit unions no longer need to work with multiple vendors.
Moreover, information that used to be exclusive to legacy providers can now be accessed elsewhere with features like user-permissioned data. 
With Truework Credentials empowering lenders to verify income for  95% of applicants, credit unions can speed up income verification and save hundreds of dollars per applicant in the process. 
Enhanced borrower experience
Credit unions pride themselves on their exceptional customer service, which is rooted in building personal relationships. However, the growing popularity of fintech companies has led to more borrowers expecting technology that enables a seamless loan application and quick decisions. 
The good news is that you don't need to automate the entire loan process to keep up with changing borrower expectations. For lenders that want to accelerate borrowers through the application processing stage, automated income verification is the best solution. 
Faster verification is essential for credit unions looking to keep their customers from shopping around to other lenders and grow their customer base by attracting net-new borrowers. By offering quicker decisions, you can improve customer satisfaction and be more likely to keep borrowers engaged in the process.
Improved regulatory compliance and risk management
Compared to using multiple vendors, unified verification platforms can better adjust to regulation changes. Credit unions can also trust that compliance is maintained across all income verification methods. 
By improving consistency in verified data sources, unified systems also lower risk by reducing the chances of manual errors and oversight. 
Data-driven insights
Using a unified system makes it easier to aggregate and analyze data, meaning credit unions can have access to better actionable insights, such as understanding variable income and income stability. 
Access to better quality data for your loan decisions also means you can keep risk low while offering your borrowers favorable interest rates. 
To better understand these benefits in action, here's a look at one credit union's story with Truework's unified income verification platform.
Case study: Wings Financial
Wings Financial is one of the top 40 credit unions in the nation and has been member-owned since 1938. In 2022, the mortgage market experienced drastic shifts, leaving Wings Financial tasked with finding ways to increase efficiency while maintaining member excellence. 
Conversations with borrowers and team members identified income verification as a consistent source of frustration for both parties. 
Specifically, Wings Financial found that processors had to contact borrowers multiple times to ask for supporting income documentation. Working with legacy verification providers also involved a lack of transparency around what pieces of employment and income data would be provided.
Wings Financial switched to Truework to eliminate redundancies and accelerate the approval process. The team especially liked that Truework clearly recorded every action taken and provided real-time status updates for each verification request.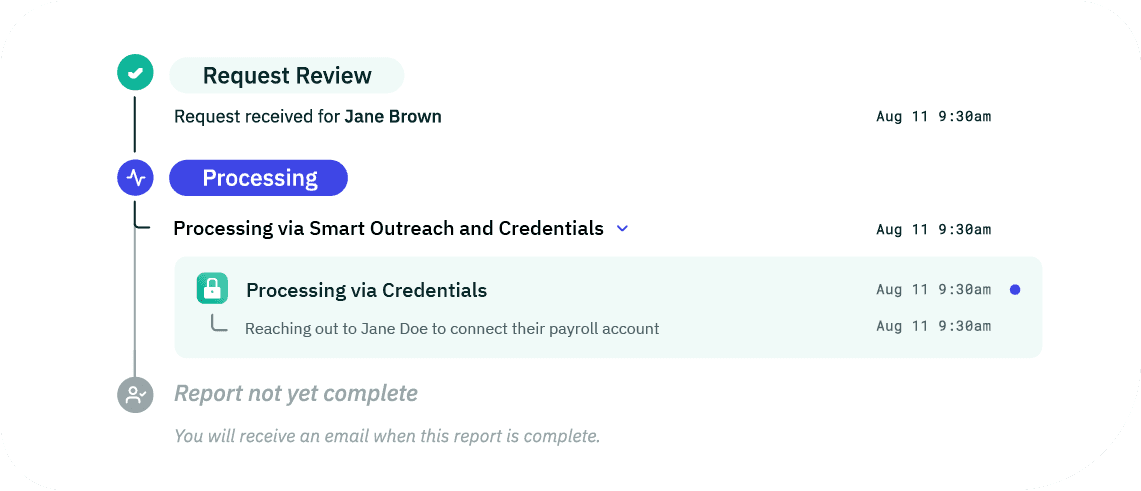 After switching to Truework's unified verification system, Wings Financial achieved an average verification turnaround time of two and a half hours, processed loan applications eight times faster, and improved the borrower experience by reducing the need for paystub uploads.
Truework's direct integration with Wings Financial's Loan Origination System eliminated redundant data entry and accelerated processing times even further. 
Wings Financial also reduced business risk with the help of Truework's network of over 48 million instant records, all eligible for Fannie Mae's Day 1 Certainty program.
What to look for in a unified income verification provider 
Finding the right verification partner is just as important as making the choice to automate in the first place. Here are some key features to look for when choosing your automation software.
Multiple connected verification methods
Having multiple income verification methods available means that you can achieve maximum speed, no matter the borrower. That said, connectivity is the key to optimizing efficiency when using multiple methods because verifiers don't have to resubmit information to try a different method. 
With Truework, you can access multiple methods in one platform, including over 48 million active instant employee records, user-permissioned payroll data, document upload, and our automated outreach solution, Smart Outreach. 
Since all methods are connected in one solution, your verification requests can instantly be orchestrated across the entire platform. 
Truework goes even further by automatically selecting the best method for each borrower, ensuring maximum processing speed across the board.
Standardized data
Organizing and managing information from different sources can be time-consuming and increase the likelihood of human errors that come from manual data entry. 
That's why Truework standardizes the data output for each verification method so you can easily aggregate and analyze income information no matter the source.
Fraud detection
Even if you need to process a manual verification with pay stubs, you'll want to ensure you can easily flag potentially fraudulent documents, even those that appear legitimate to the human eye.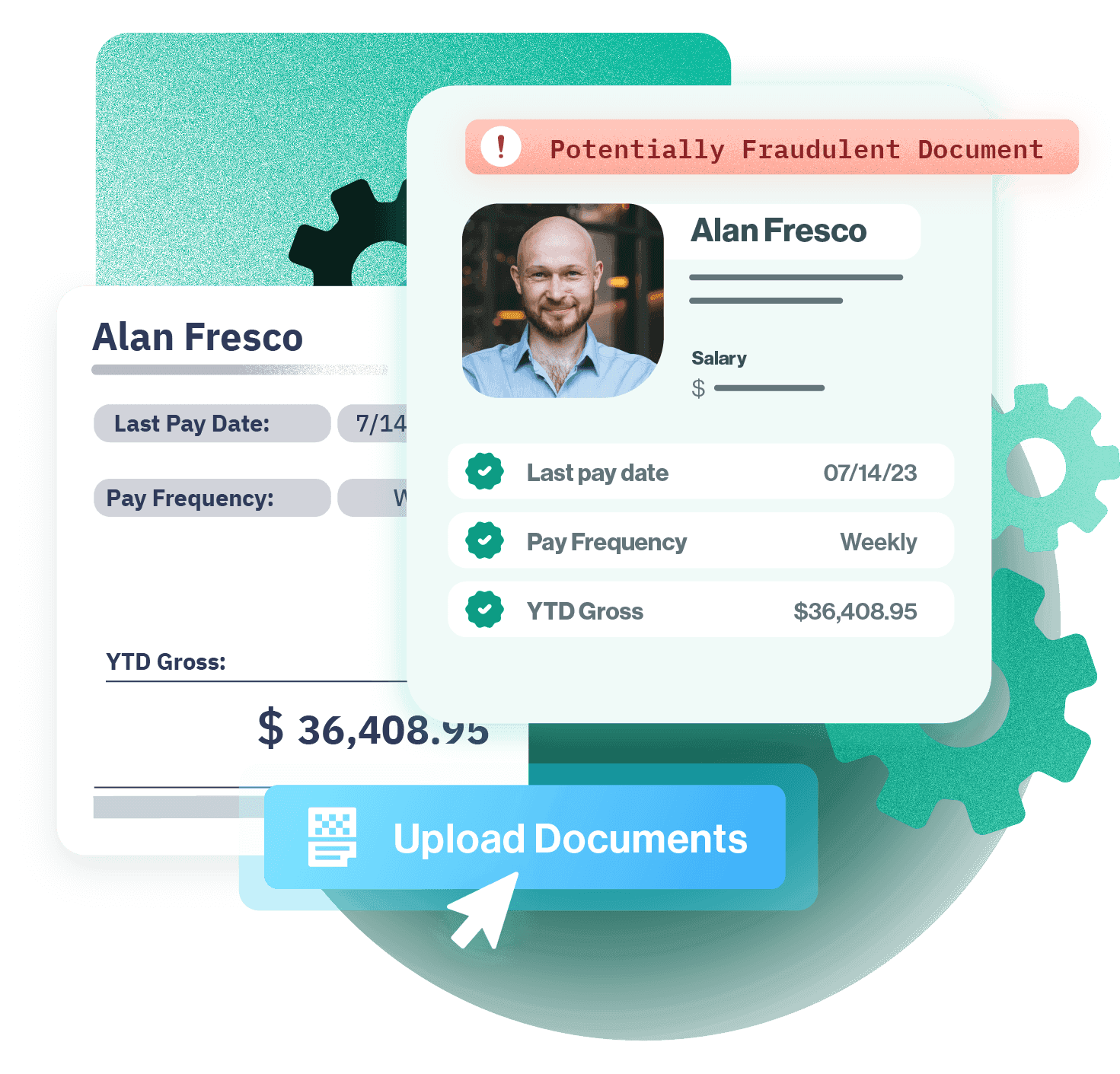 After all, giving your customers the option to upload income documents can leave space open for errors and fraud. 
Truework's Documents feature automatically converts pay stubs and other files into structured data and sends you notifications when it finds suspicious information, allowing you to improve overall risk assessment and prevent fraud.
Integration with your loan origination system
One of the main benefits of switching to a unified income verification system is the consolidation of providers and data. You'll reap the most benefits by choosing a provider that works seamlessly with your existing loan origination system (LOS). 
Truework integrates with multiple LOS systems to immediately streamline processes. It's also easy to customize settings based on your needs.
Final thoughts: How credit unions benefit from automated loan processing 
Credit unions pride themselves on providing the kind of customer relationships that are increasingly rare at large lenders and fintech companies. That's why it's crucial to be thoughtful about the strategies they use to reduce spending and increase efficiency. 
When it comes to automated loan processing, investing in a unified income verification system is one way credit unions can get the best of both worlds: operational efficiency and enhanced customer experiences. 
Learn how Truework Income can unify your verification strategy and support you across all your processing needs. 
Ready to
unify

your income verifications?

Join the thousands of lenders who use Truework Income as the one-stop verification platform.

Learn more