Announcements
New applicant-experience features for Truework Credentials
We've updated the reverification process and exit flows to make for a faster and more streamlined experience for consumers verifying income with Truework Credentials.

Bradford Rose
Senior Product Marketing Manager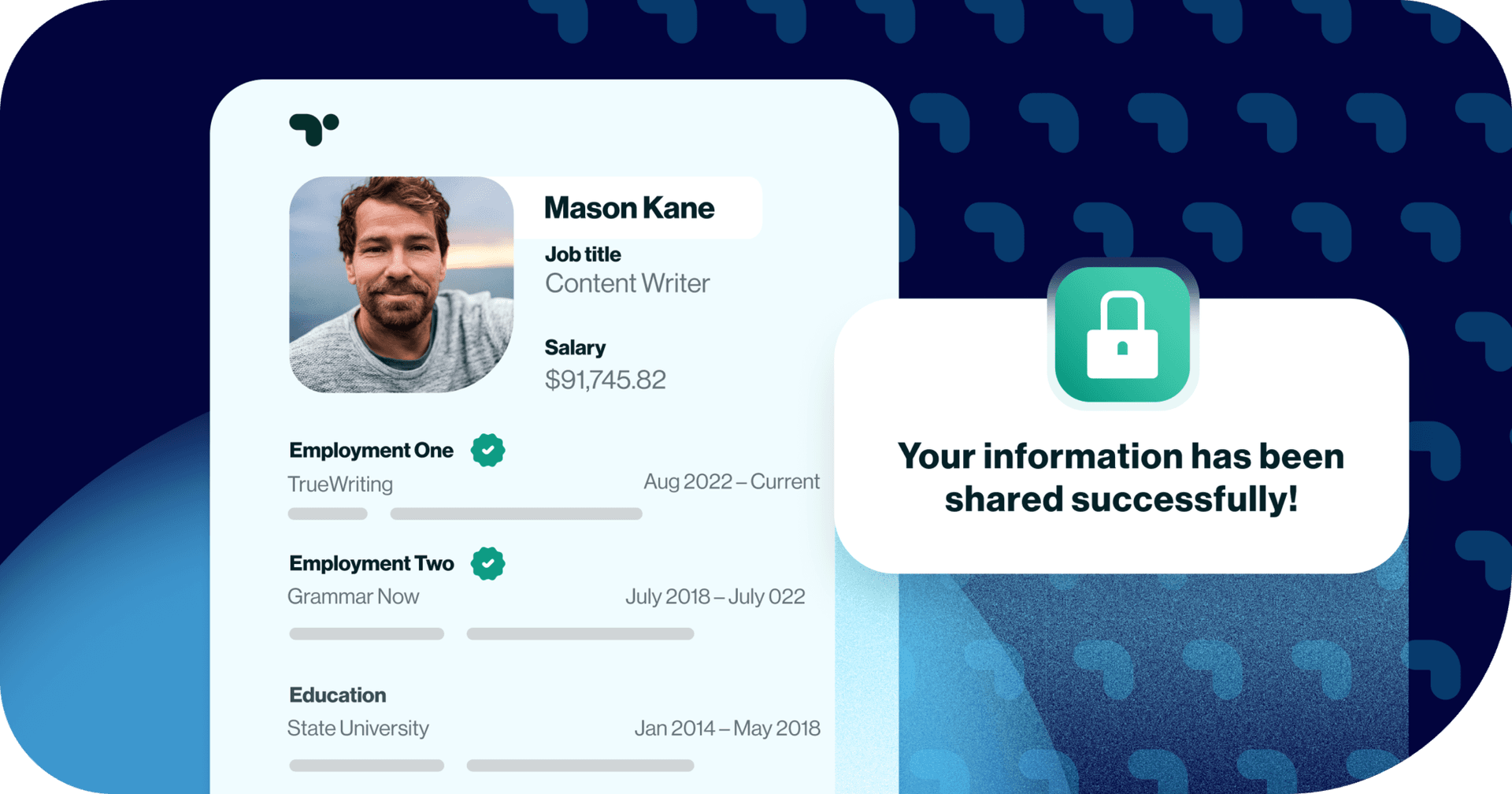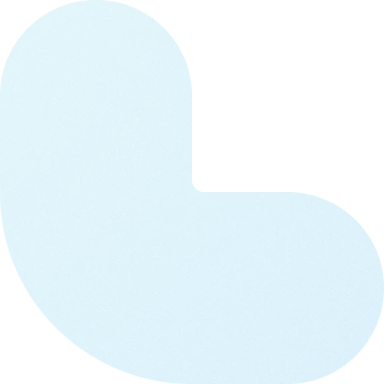 Easier than ever to verify with Truework Credentials 
We've made improvements to our applicant experience to make it even easier for any consumer to verify income and employment with Truework Credentials. Applicants can now process reverifications faster and more easily search for their payroll provider when unable to locate their employer in our database. 
More verifiers are now using user-permissioned technology like Truework Credentials to reduce friction in the application process and accelerate completed applications. Verifiers can save over $100 per verification when using Credentials and can verify income for 95% of applicants with the one-stop Truework Income platform. 
As a part of our updates, we've created a short explainer video to give applicants a better idea of the verification experience using Truework Credentials. Check it out below:
Easier re-verifications with Credentials 
Re-verifications are a critical step in any application process. For mortgages, issues with reverifications can delay the closing of a home, or worse. Given the time-sensitive nature of re-verifications, they can often be more stressful for applicants. 
To help make this process easier, we've updated the email notifications applicants receive when a re-verification is required. Applicants can more easily complete their re-verification by following the link directly from the email, leading to faster processing times and fewer delays for verifiers. 
Over half of Credentials reverifications require zero additional input from the applicant. For the remainder, applicants will receive the below email in their inbox as soon as a reverification is requested: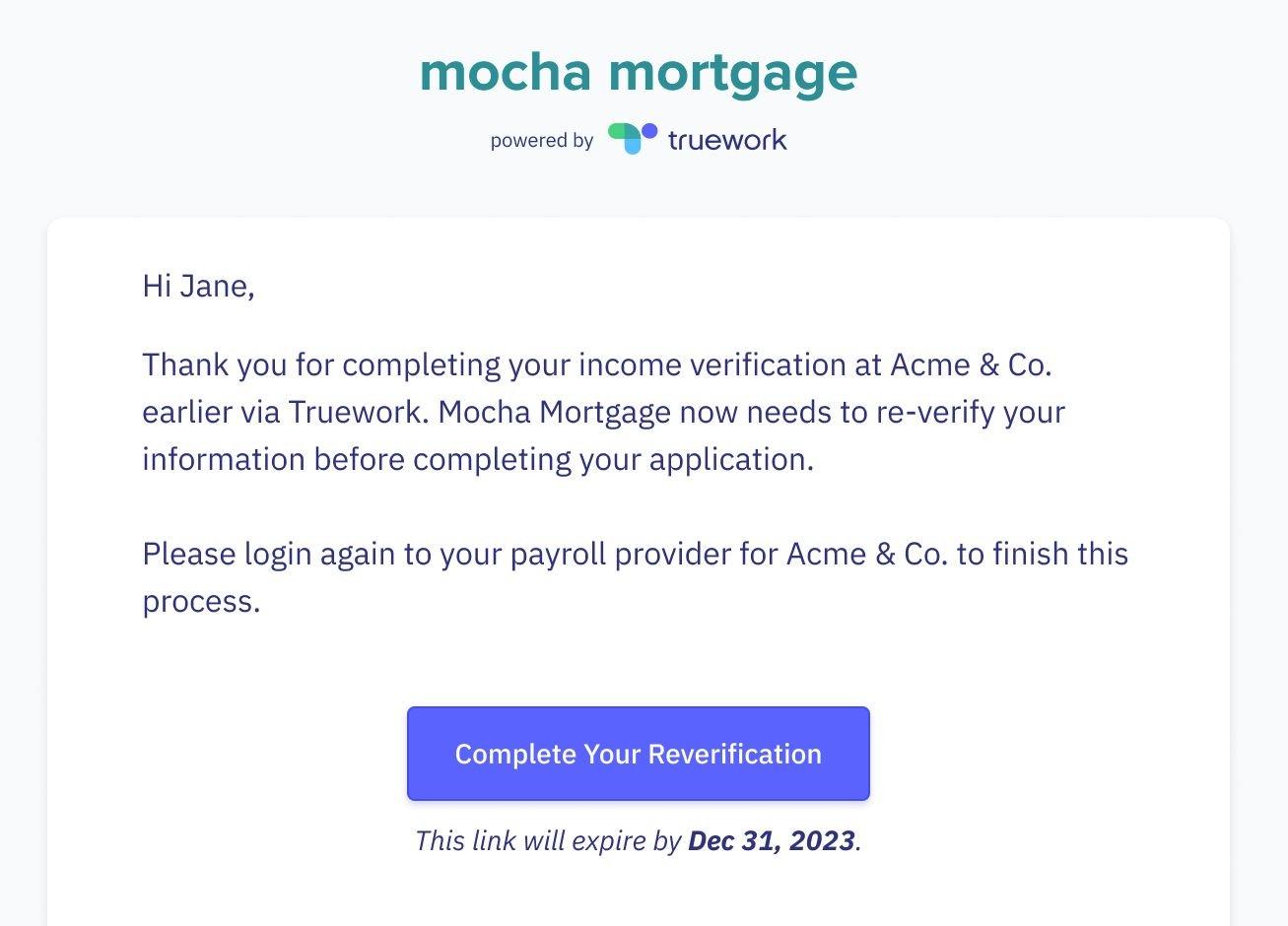 Updated workflows make for easier reverifications
Following the email link takes applicants to the same Credentials workflow, where they can reverify with source-of-truth data in just a few clicks.
Automated troubleshooting 
The Truework Credentials experience now includes an automated troubleshooting workflow to maximize completions and help applicants if they ever get stuck. Instead of leaving applicants in the dark, we've created a quick diagnostic tool followed by a set of customized instructions to help applicants complete more verifications. 
When an applicant is unable to log into their payroll provider and exits out of the Credentials workflow, we automatically deploy the diagnostic workflow to help them complete their verification. Our tool includes the most common issues as well as easy-to-follow instructions on how to troubleshoot.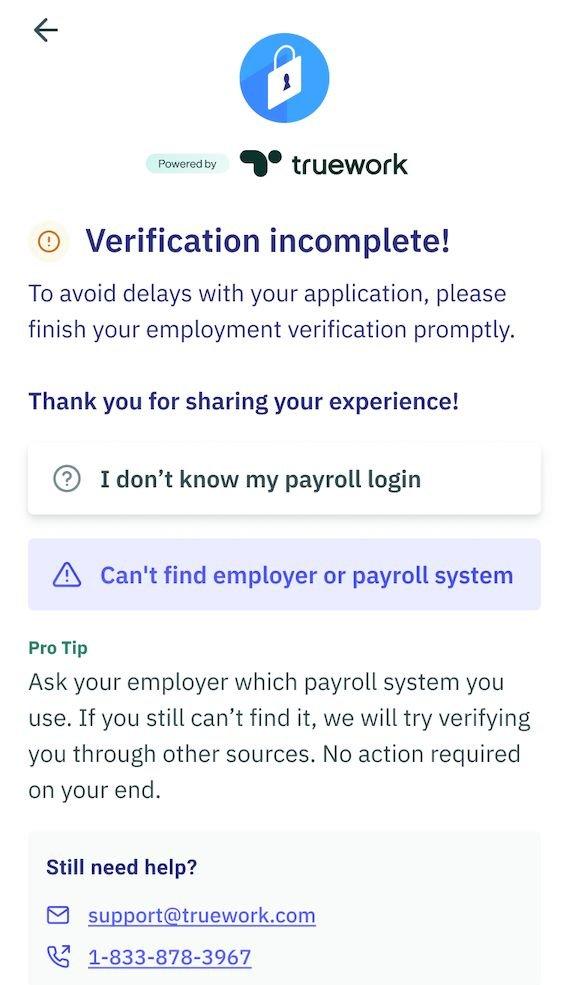 Automated troubleshooting improves completion rates
Additionally, we provide every applicant with our support email and direct phone line to ensure they can talk to a Truework support representative in real-time and resolve any issues as quickly as possible.
As a reminder, Truework never stores log-in information and only shares the necessary information with authorized third-party verifiers. 
Creating trust through transparency 
Truework Credentials gives applicants unparalleled transparency into how their sensitive income and employment data is shared with authorized third parties. These updates help improve the applicant experience and ultimately allow lenders to reduce costs and accelerate completions with Truework's one-stop verification platform. 
On the verifier side, all Truework users can access real-time status updates for every submitted request. Status updates let verifiers know exactly what steps have been taken for each verification, reducing delays and improving completion rates. Whenever an applicant takes an action to complete a request or provides feedback, Truework users will receive real-time updates.
Ready to
unify

your verification strategy?

Join the thousands of lenders who use Truework Income as the one-stop verification platform.

Learn more