Industry
How Truework Income uses machine learning to accelerate verification
Discover how we leverage machine learning to streamline income verification and accelerate financial workflows while maintaining 100% accuracy.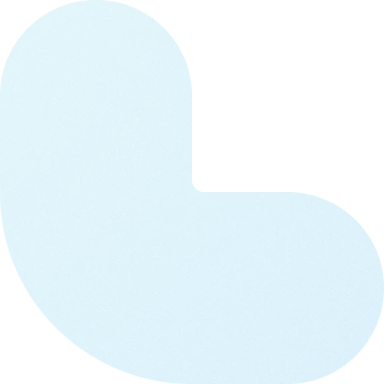 "AI solutions need to be more than gimmicks. We are in a heavily regulated and compliance-driven industry. We need to dot all of the i's. Not most of them."
Vice President of Strategy,
at a Top 200 Mortgage Lender


Building for trust
Since our founding, we have incorporated machine learning and AI technology into the Truework Income platform while maintaining a constant focus on compliance and accuracy. This balanced approach is how we have been able to consistently deliver the most value to both customers and consumers.
Applying machine learning to use cases involving financial data requires patience, craft, and attention to detail. We are lucky to have some of the smartest and most thoughtful engineering minds working to accelerate financial workflows using these technologies while maintaining 100% accuracy on every verification.
After years of putting in the work, here's where we stand when it comes to applying machine learning to income verification:
- Never compromise the trust and accuracy by modifying source-of-truth data. I'll highlight some of the creative ways we are streamlining access to source-of-truth data, but machine learning can never modify the data itself.
- We need "humans in the loop" to supervise and correct recommendations. With the current technology, fully autonomous agents are not useful beyond gimmicks and are not appropriate for financial services use cases. 
To maintain 100% accuracy and uphold our commitment to compliance (which requires strict tolerances on false positives), we deploy human supervision in all use cases. When needed, a Truework team member will jump in and complete a task manually instead of introducing unnecessary risk to data integrity. 
This focus, drive, and discipline over years, coupled with these tenets, has enabled enabled us to build the only one-stop, multi-method platform that can verify income for 95% of applicants. 
Here are a couple of examples of how we're already leveraging machine learning, where Large Language Models (LLMs) have been uniquely helpful in our approach so far, and how we plan to continue to evolve this technology in the future. 
Intelligent Orchestration Flywheel 
In our industry, the best way to capitalize on machine learning is using this new technology to make a faster, more efficient verification platform that does not rely on a single data source.
A better platform requires intelligent orchestration. When a customer submits a request to Truework, they don't need to resubmit it if any individual method is unsuccessful. Instead, Truework orchestrates each request across the platform, seamlessly engaging with one or multiple verification methods simultaneously until the request is complete.
We accelerate completions by identifying the optimal verification method using over a dozen employer and employee attributes. We then deploy machine learning to constantly optimize the time-to-verify by ingesting new data from the thousands of requests we process every day. 
Unique applications of new technology helps us continue to increase the speed and efficiency of the Truework Income platform.
Employer Standardization
Let's start with an employer name as an example. Large corporations with complex subsidiary structures (eg. Alphabet has numerous subsidiaries Google, Nest, Waymo, Wing, etc.) are difficult to standardize and navigate. This problem type is one of many challenges faced when trying to standardize employer names for hundreds of related entities. 
By using OpenAI's embeddings, our platform can now standardize corporate hierarchies and solve other categories of issues to orchestrate requests faster. Our automated employer routing has increased from 30% to 85%+, meaning fewer delays when initiating verifications. 
The Google example highlights how we have been able to accelerate the time-to-verify by 50% using an AI-powered, orchestrated approach.

Truework AI solves complex corporate hierarchies
Method Routing
Now that we've matched the request to the correct employer, we need to figure out the optimal method of verification for that company. Truework handles millions of requests per year and uses human-supervised machine learning to learn and maintain the most efficient path for each request. 
A good example that showcases the importance of optimized routing is Uber. First we use Truework AI's employer standardization to validate if the employee is at Uber corporate or an Uber driver. After confirming the applicant is an Uber driver, we know that our user-permissioned method, Truework Credentials, is the fastest way to verify Uber drivers. We immediately initiate the Credentials workflow, eliminating one of the most challenging tasks for verifiers in choosing the right verification method for each applicant.

Truework AI optimizes verification routing
Making Smart Outreach "smarter"
One of Truework's most effective verification methods is Smart Outreach, our automated solution for otherwise manual verifications. Over the past 6 years, we've been using technology to take what used to be a 5+ day manual verification process, and make it faster and more efficient. What began as a call center (and still is for most competitors in our space) has transformed into a cutting edge machine learning platform. Machine learning helps us accelerate verifications by constantly mapping and optimizing contact information for hundreds of thousands of employers. 
Using these tools, we have reduced our average time-to-verify by 58% for request completed through Smart Outreach. 
Let's go one level deeper on some KPIs we're driving:
75%
Once we've verified employment for a net-new employer, we can automate the standardization and routing for every subsequent request. Today, 75% of all Smart Outreach verifications are initiated without any manual processing of the verification. 
90%
More recently, we've been able to execute automated task recommendations to our team, even for net-new employers, by leveraging LLMs. When we come across a new employer, 90% of the time we are able to recommend the best tasks using look-alike data models, helping our team accelerate hard-to-verify employers. This year, the average time it takes to verify net-new employers has gone down by 53%, and we expect this number to decrease even further.

Truework AI eliminates manual tasks
Document extraction
For some consumers, the only way to verify income requires a document to be shared. This may be in the form of a W2, 1099, tax return, child support payments, or many other types of documentation. To complete document-based verifications, we utilize different forms of machine learning to extract the data from an array of documents and convert them into standardized income reports (while also running multiple fraud checks simultaneously). This process can be complex but also highlights where a human-supervised process is vital.

Truework AI flags potential fraud for review
Now let's look at how this all comes together. When we receive a verification request, we apply multiple instances of AI to initiate the most efficient orchestration for an employee and employer combination. Our platform can now route hundreds of requests simultaneously across every major verification method. This efficiency is transferred to our customers in the form of speed, accuracy and cost-savings.

Truework AI accelerates the one-stop platform
The Future
Our experience over the past few years has confirmed one of the core hypotheses we held when founding Truework: the income verification space is ripe and ready for meaningful innovation.
We will continue building machine learning into our infrastructure to make our platform smarter and faster for every customer and consumer. Ultimately, this measured and patient approach is how we fulfill our vision faster of creating trust in every financial transaction. 
We plan to use machine learning to streamline the user experience for lenders and consumers alike. We believe lenders can evolve point-of-sale and online application flows to dynamically direct users down a smarter and easier applicant experience. 
In the mortgage space, over a third of borrowers say that understanding and completing the mortgage application is the most difficult part of the home buying process. We see a streamlined approach to income verification, one leveraging both new technology and borrower engagement, as a key area of investment for lenders moving forward.
We look forward to working closely with our customers to build these products the right way. If you'd like to contribute to this journey, please send an email to ryan@truework.com or get in touch with your Truework team.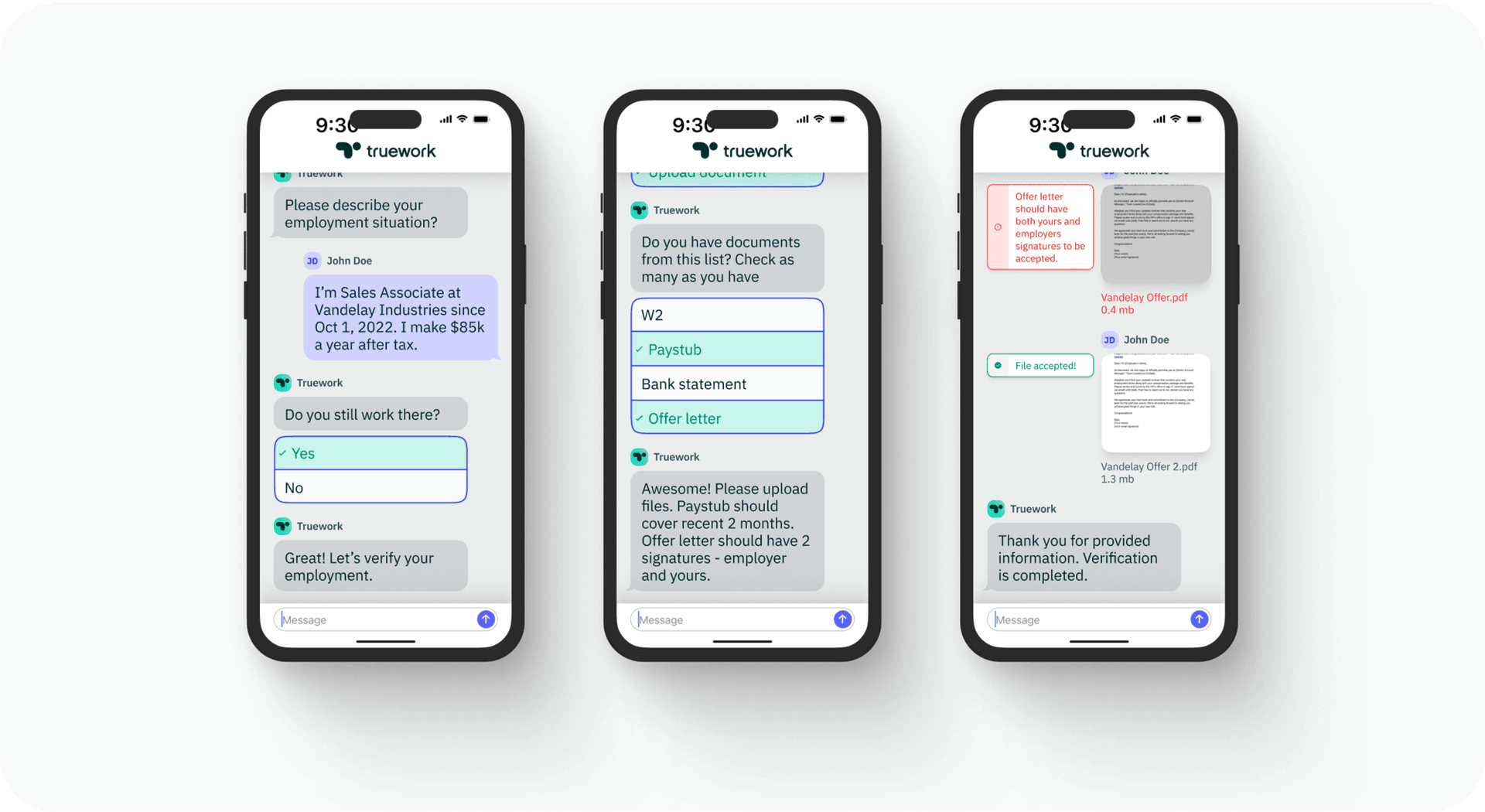 Truework AI can power a better applicant experience
Ready to
unify

your verification strategy?

Join the thousands of lenders who use Truework Income as the one-stop verification platform.

Learn more