Announcements
Spend less time verifying employment and income with our new verifier experience
We are excited to release our updated verifier experience to all users. We can't wait to hear what you think!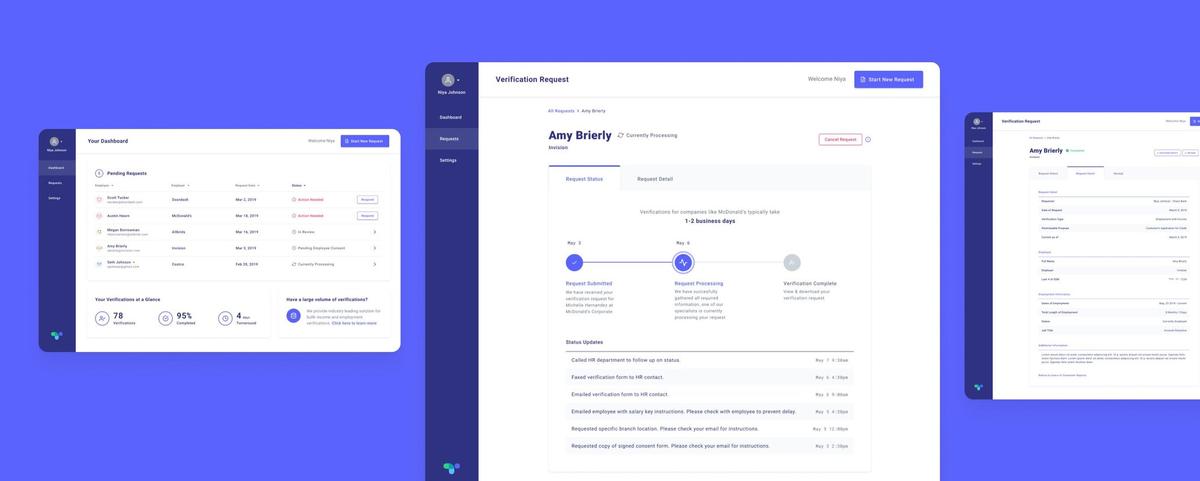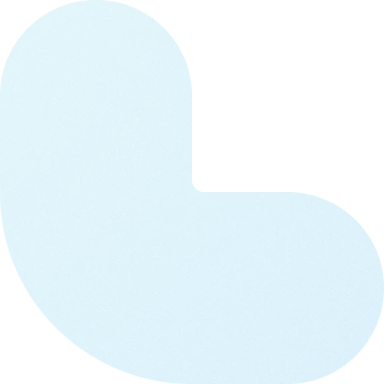 We're excited to announce the release of Truework's new verifier experience.
Over the past two years, we've had dozens of conversations with our verifier customers (e.g. lenders, employers, and background check processors) to learn more about how we can continue improving the experience of managing verification requests with Truework. Recently we've been transforming these learnings into product features, and now after weeks of great work from the team, we are excited to announce the launch of the new verifier experience.
Through these conversations, we started seeing patterns that led us to identify three main pain points that were negatively affecting users. First off, verifiers were having a hard time understanding the current status of a pending request. Second, they were unsure how long a given request was expected to take. Lastly, cancellations were not a seamless experience and users were having trouble managing high-volume loads of simultaneous requests.
Based on these discoveries, we've reimagined the verifier experience with a few key goals in mind.
We want to 

improve transparency

 around each request, providing more visibility into the request lifecycle and setting clearer expectations with our verifier users.

We're looking to 

increase the number of actions

 a verifier can perform on the platform without help from our customer support team.

We want to make the overall experience 

more friendly and easy to use

.
In the new workflow, we've rebuilt everything from scratch including the dashboard, request details, and the cancellation experience. It's now easier than ever to submit, manage and track all of your verification requests on Truework. Here's how-
How It Works
When you sign in, you'll instantly see all your ongoing requests on your dashboard. Any actions you can take to speed up your requests will be called out directly in the Truework UI.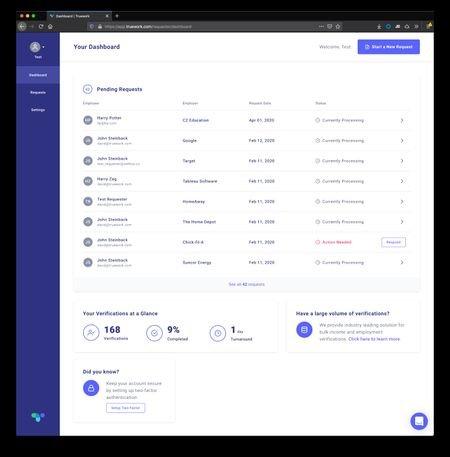 Ongoing Requests
When you click into any request, you will now see the estimated completion time for this employer, where we are in the verification process as well as any status updates communicating actions we've taken thus far to process that request.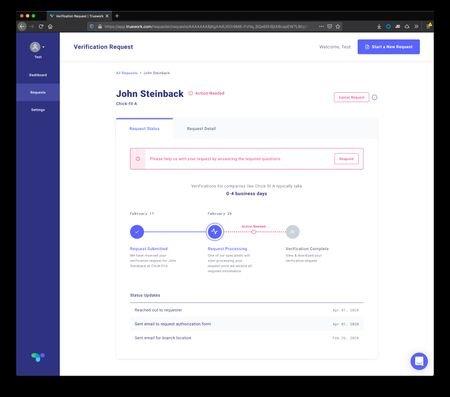 If a request is currently blocked because of missing information, we'll tell you exactly what's missing so you can complete the request asap.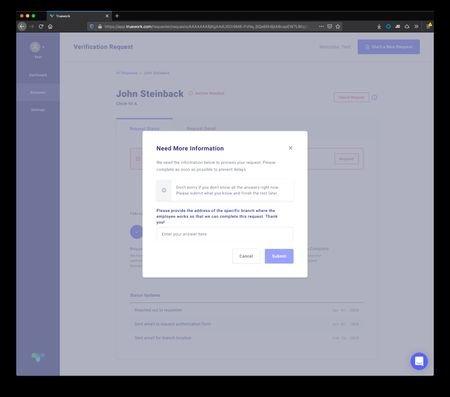 Cancellations can now be made directly on the request page.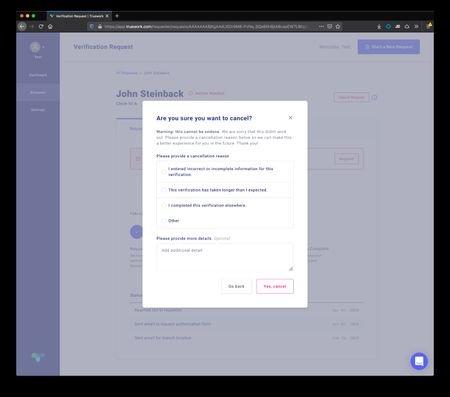 To help improve the overall experience for our verifier users, we've created a new summary page outlining all the information we have associated with any given request.
Completed Requests
Once we complete a request, you can view details of the completed request as well as download a PDF report for your records.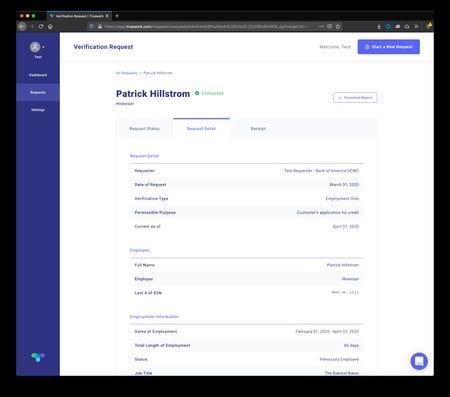 We've added a "Receipt" tab on the navigation bar to make any invoice easily visible.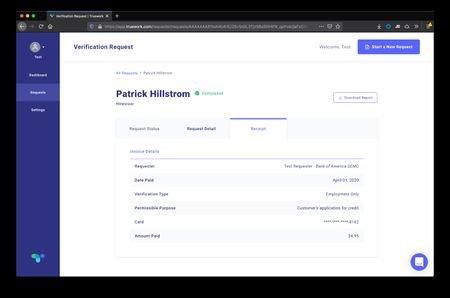 We've added increased functionality that lets users search for specific past requests as well as filter for current requests by status.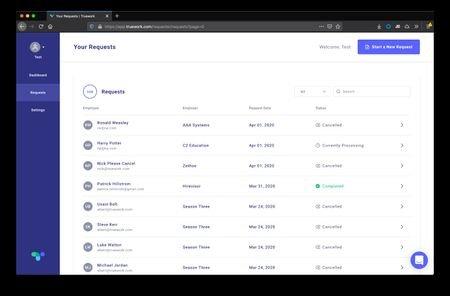 Read how we help companies verify faster and how Truework Teams allows hundreds of organizations to manage verifications and team members for all of our customers that continue to provide us invaluable feedback, thank you. We can't wait to hear what you think :)
Grow your business with Truework
Join the group of 17,000 organizations that use Truework to increase applicant conversion with faster income and employment verifications.
Talk to our Team